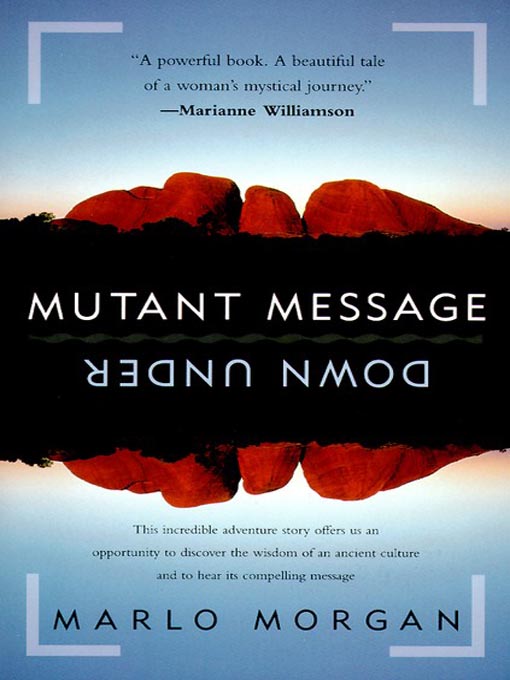 Just a quick reminder... the

Spirituality, Empowerment and Wellness Bookclub

will have it's regular meeting on July 11 @ 11am, @ River Read Books in downtown Binghamton.

Our selection will be

Mutant Message Down Under

, by

Marlo Morgan.



Booklist review: In this fictionalized version of actual events, Morgan believed she was being taken to an awards luncheon for her work with urban Aborigines when she climbed into a jeep and headed out of town. Hours later, she found herself at the edge of Australia's outback watching her possessions go up in flames. Her guides, telepathic and spiritually advanced descendants of a 50,000-year-old tradition, call themselves the "real people" and refer to Westerners as "mutants." Morgan's trek across the heart of Australia involved a series of increasingly revelatory and even miraculous occurrences. This demanding journey transformed Morgan's work as a healer into that of a messenger with a message many are eager to hear.

On

Wednesday, July 15

7pm-9pm

, please join us for part 2 of a 6-part video series and discussion of the book Nonviolent Communiction, a Language of Life, by Marshall Rosenberg. If you wanted to attend the recent New York Intensive but were unable, this is another great way to learn this system. I have found that NVC has touched every aspect of my life, and I'll bet you'll find the same thing!

Wednesdays through August 12, First United Methodist Church 53 McKinley Ave.

Endicott

. Please call 607-748-7434 to register

. Moderated by Janice Ulangca. The book is available from the church, or from River Read Books in Binghamton

(607 217-7292)

or Clintwood Healthy-U in Vestal

(607 797-7770

). Please support these locally owned businesses!

Note: Clintwood Healthy-U supports the SEW Bookclub, and is an alternate place where you can find our monthly selections!

Also join us for a special meeting on July 25, also at 11am, at River Read Books, where we we will be discussing the book:


"

Mindful Way through Depression: Freeing Yourself from Chronic Unhappiness

"

, by

Mark Williams

and

Jon Kabat Zinn

, et. al. This inexpensive book includes a free CD with guided meditations.

These two authors are featured in my current show on Public Access TV, Time Warner ch. 4, Fridays @ 10pm and Saturdays at 6pm.

In the TV show and in the book, discover how these researchers have found this 2,500 year old meditation technique has been shown to be the most effective cure for chronic unhappiness, better than any drug.


On August 8, we will continue our focus on

mindfulness with the book

Mindfulness in Plain English

, by

Bhante Henepola Gunaratana

, a teacher in the Vipassana style of meditation.


If you have any questions about any of these books or the bookclub, please contact me or
River Read Books @
607-217-7292
--
Bill Huston
WilliamAHuston@gmail.com
Binghamton NY
Phone: 607-321-7846
SocialNet:
http://facebook.com/billhuston
http://myspace.com/MrMouthyMan
Videos:
http://youtube.com/billhuston
http://vimeo.com/billhuston
Bio/blog:
http://binghamtonpmc.org/bio.html
http://WilliamAHuston.blogspot.com